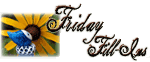 1. The last band I saw live was
my kids rocking rock band in my living room.
2. What I look forward to most on Thanksgiving is
having my grandmom home with us for the day from the nursing home, I am really hoping that happens.
(-:
3. My Christmas/holiday shopping is
well underway, thanks to some great deals found on several of my favorite blogs!
4. Thoughts of
fundraising for Collin's Robotics team
fill my head.
5. I wish I could wear
my pajamas all weekend long
....soon enough soccer season will be over and maybe that can happen.
6. Bagpipes and
men in skirts
.
7. And as for the weekend, tonight I'm looking forward to
hopefully sewing
, tomorrow my plans include
Collin's Ramp Riot Robotics Competition
and Sunday, I want to
catch Michael's soccer game and if that gets cancelled head to a college fair with Collin
! Busy weekend, and I am tired already! But its a good thing! Hoping for big wins on both days!