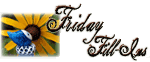 1. It's time for
the weekend.....YAY!
2.
Cold Stone Creamery
; it's not a bad place for
ice cream.
3. I must be
happy cause life's too short not to be!
4.
The laughter of my children
is the best thing I have ever known.
5. My
homemade ice cream
is simply
decadent
. (Shannon that one is for you!)
6. The last time I laughed really loudly was while I
was visiting my grandma's in the hospital (they are both in there two doors apart)...and at the "after" party as the plan was unfolding
7. And as for the weekend, tonight I'm looking forward to
having the day off while running errands, finishing school shopping, getting the stuff I need for the fair bake sale, and possibly visiting my grandma's at the hospital, tomorrow my plans include yardsaling and emergency family meeting,(LOL Jamie) and Sunday, I want to spend the day with the family and Sam comes home...YAY!